There's no good name for it: company wiki, intranet, resource center, employee hub. No matter what you call it, almost every company has a place for documenting, storing, and organizing the "stuff" that makes the business what it is. And it's usually old, out of date, and hard to navigate.
Quip is simple, easy to use, and effortless to update as a wiki. Because it doubles as a project management tool and a wiki, Quip becomes a "living wiki" that grows and evolves with the organization. As you finish projects in Quip, the shared folders that you used to manage then become parts of the wiki — archival information that is vital to providing context as new people join and as your team takes on new projects.
Increase transparency across your organization
Use Quip to centralize important documents from across the company. It's easy for everyone on the team to see what decisions have been made — including all the context and the communication that would normally be stuck in email. Everyone stays on the same page, and you'll never lose vital context again.
Never worry about out-of-date content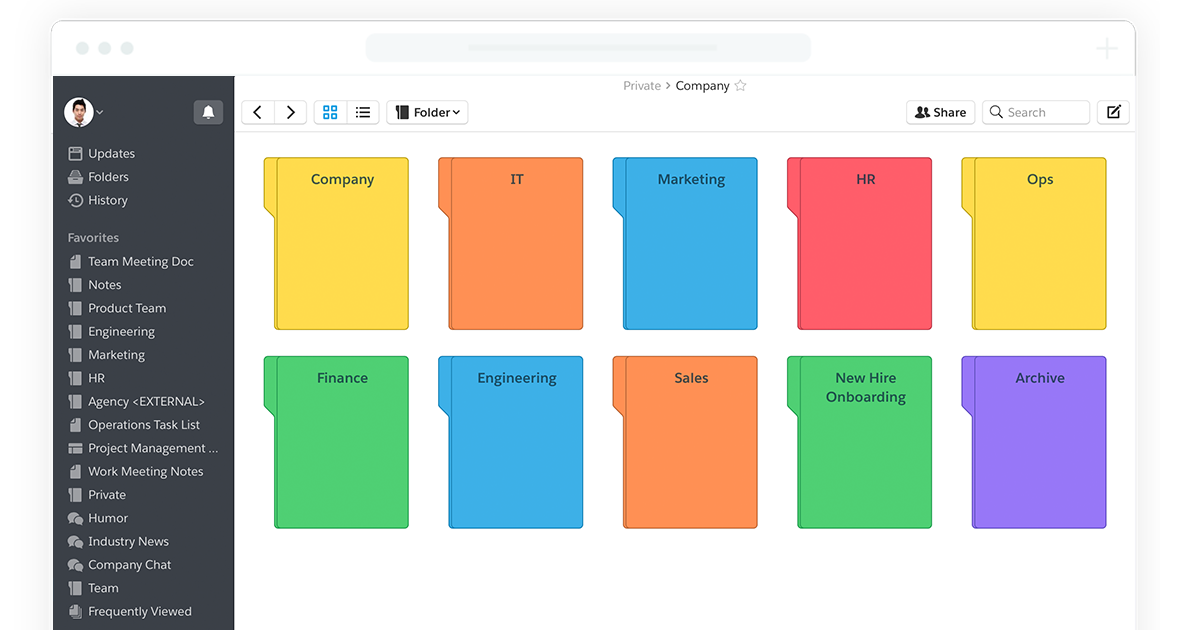 Quip is as good at project management as it is at being a wiki. It's easy for people to see active projects as well as past projects. You can organize your documents in shared folders, so you don't lose track of your important content. Notifications from @ mentions draw people back to Quip to update their documents, so you will never have to worry about your wiki being out of date again.
Onboard new hires in a snap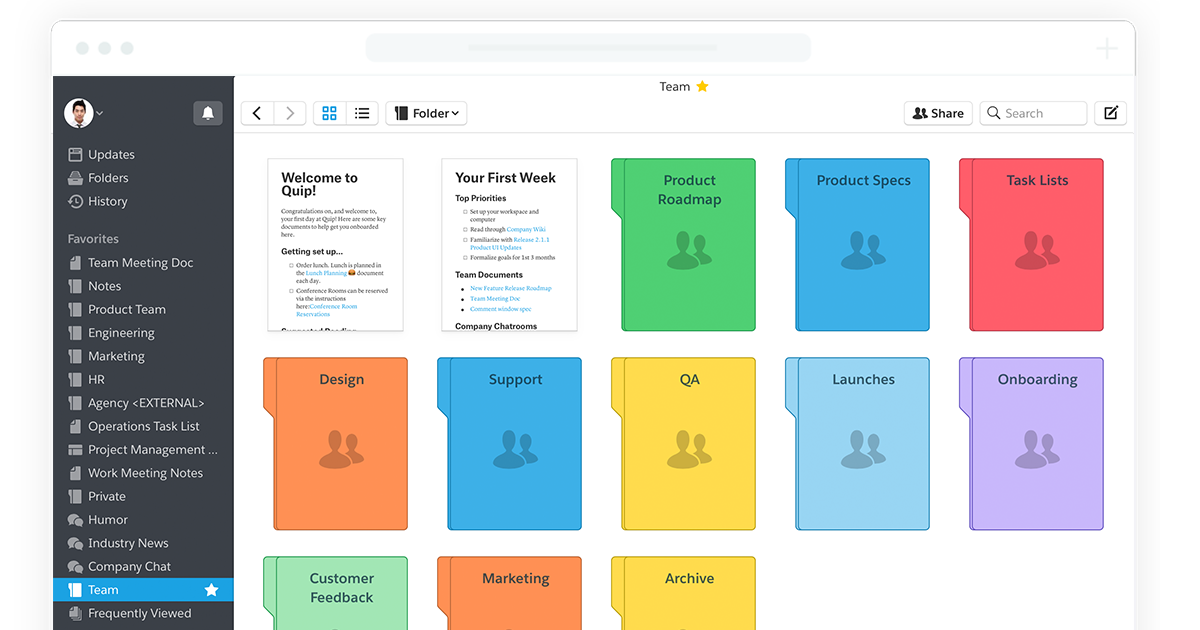 With Quip it's simple for new employees to see what's happened at the company, and what's currently in the works. Normally all the history in your company is stuck in email, but with Quip, new people can easily read all the context in each document thread, and catch up on things in chat rooms. You can control what your new hires' desktops look like, so you can pin important first-day documents and direct them to the policies and processes they need to understand.
Feel confident that your content is secure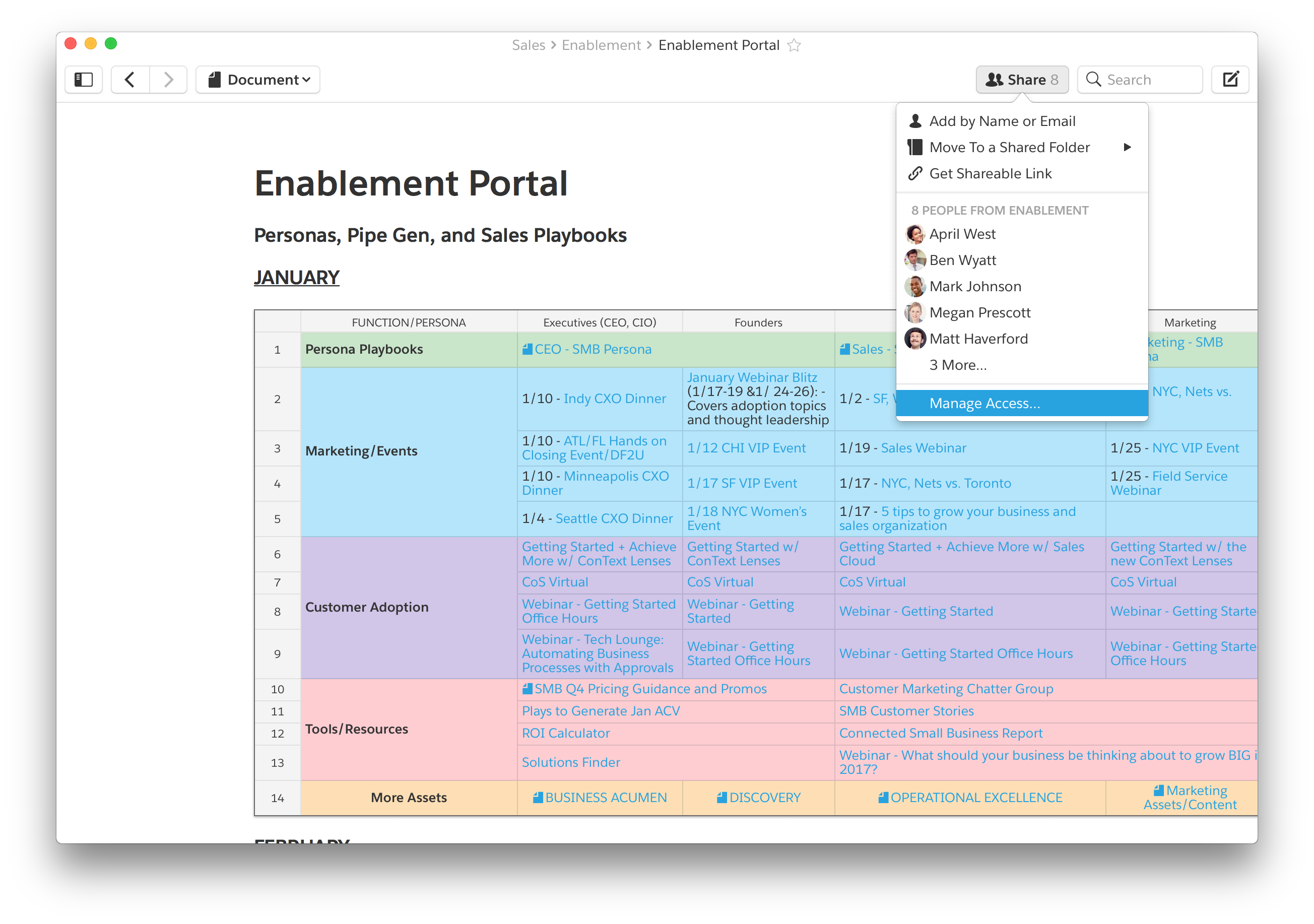 You need confidence that you have control over your most important company data. Quip lets you easily manage your team's access: See who has access to what, add and remove users, and disable accounts when employees leave the company. Quip's production teams comes from Facebook and Google, and we have extensive experience running highly reliable, scalable web sites. You can read more about Quip's security here: Security Overview & FAQ
Say goodbye to cumbersome company handbooks and out-of-date intranets. When you centralize your company in Quip, you help your whole team move faster.
Get in touch. We'd love to help.